Well, we're done with our remodel...sort of done, I mean you're never really done when it comes to your house. But, for now we are putting down our tools and taking the summer off to bring "normalcy" back into our lives (whatever that is). I spent the last two weeks away from
blogland
to wrap things up, I guess you could say my role was that of the designer/contractor/superintendent/taper and painter in this lovely year long first time
homeowner's
dream...
(on the left is living room before we moved in, then on the right is at it's worst...)



..lessons learned and then some, out of it we realized that I'm pretty stubborn. I recall one morning in particular, over a cup of coffee, we discussed how to resolve the horrible wall finish through out the house and I said "If we have to have popcorn texture walls, I might just throw up and never stop..." Must have been decaf in that cup...but to clue you in to the work ahead of us, see the above disaster...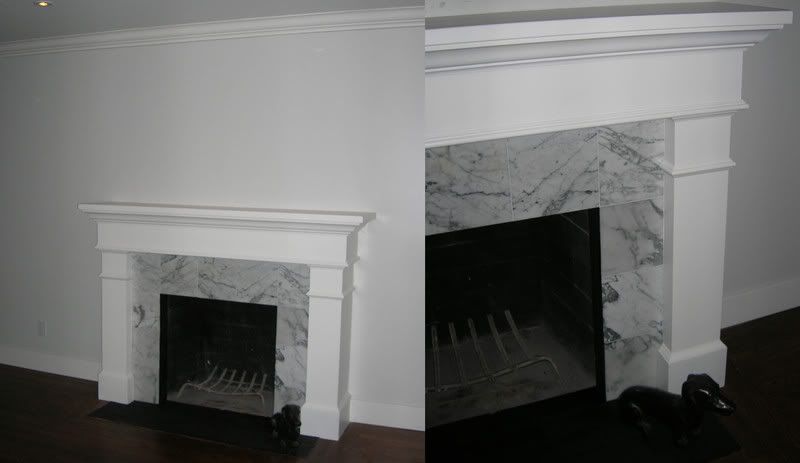 So when a girl wants smooth walls, well she just has to pick up the
spackling
knife and do it herself, and I
really
did! Any imperfections and that's all me...it looks a lot better, but after just one bedroom I was ready to shoot myself in the foot.
I'm really happy though, with the fireplace, we lucked out when we found a
lil
old carpenter to do the custom mantel for hardly anything and we used the left over marble from our bathrooms to do the surround...
(on the left is the lovely mirror above our vanity, and the right well

uggg

!!)
Our guest bath just wasn't very welcoming to say the least. A gem I know, but it all had to go...

Can't wait to finish this one up, I have roman shade and curtain fabric to select and I just can't decide. And then there's the rug and linens too! I rushed out the morning it was done and grabbed what I thought could work from Target (above), not too bad, but explaining to my hubby that it's only temporary was another thing...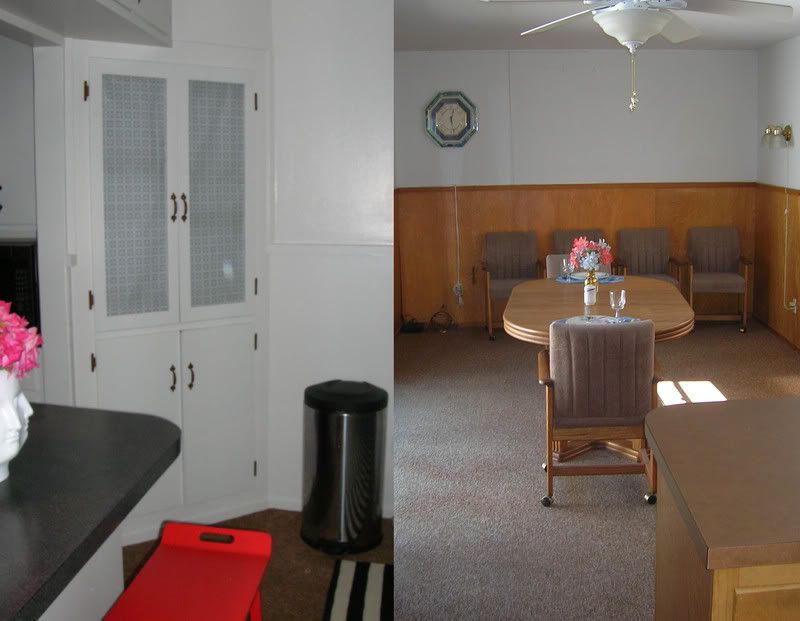 (different angles, but the after is on the left showing the white painted wood work and the before is on the right)
We opted for a quick fix in the Kitchen/TV room, so we painted the woodwork white, replaced the counters and appliances, and soon the ugly carpet (yes, carpet in the Kitchen) will become lovely hardwood.
My poor parents came to visit not too long ago to see the progress and they said "What happened to all your furniture???" We got rid of everything from our college days, and we were left with the few pieces, our bed,
tv
, and two
Ikea
barstools (above)
. No kidding, so when I say I'm happy to get going on furniture, I really mean it!!!!!!
Underneath the ugly carpet was the ugly hardwood on the right, which refinished very nicely and I have to say I'm just so excited to have a whole house full of dark hardwood!!!
Okay, that's all for now...I just started purchasing furniture, my first pieces were some vintage chairs off of
ebay
, that I'll be reupholstering soon. Oh, and I plan to include you in some of my design decisions, cause
ya'll
have good taste and why not!! But, I'm glad to be back to blogging, it's been two weeks but feels like forever...