It seems like you can't open up a magazine these days with out being swept half way across the world...to places full of color and life! Different cultures and their styles have great influence on today's designers...and this is why it's gracing the pages of your favorite reads almost every month...

Featured on the cover of
House Beautiful
back in Nov. '07, this bedroom designed by
Robyn Bell
, has a nice blend of light airy fabrics and rich woods, not to mention the "
Moorish
" inspired frieze on the walls...
Taking you from Florida to Morocco, this bathroom ties the client's favorite colors blue and white to a perfect fit with the rest of the home's design...
Browsing through Rooms to Inspire, this quaint outdoor escape (by
Martyn Lawrence-Bullard
) caught my attention...it seems very achievable even in the smallest of backyards. Featuring rich fabrics, lanterns and vintage Moroccan finds through out...
A 18th century Moroccan home of Caitlin and Samuel Dowe-Sandes gets a major makeover, including in handmade tiles by
Popham Design
, refinished furniture that contrasting nicely with the white walls...there's some fun symmetry going on here too!
And each room in the home, has the same unique mixture of modern and vintage finds, making this a perfect feature in this year's April issue of
Elle Decor
...
Katie Ridder
who's been popping up in magazine after magazine, has distinct design influences from her many travels, here this girl's bedroom featured March of this year in
Elle Decor
showcases lively bold prints in unique cutouts...
Then featured again this month,
Ridder
clearly mixes it up with Indian textiles, Moroccan poufs with Scandinavian Modern chairs (in another home design)...demonstrating how easily these pieces work together!!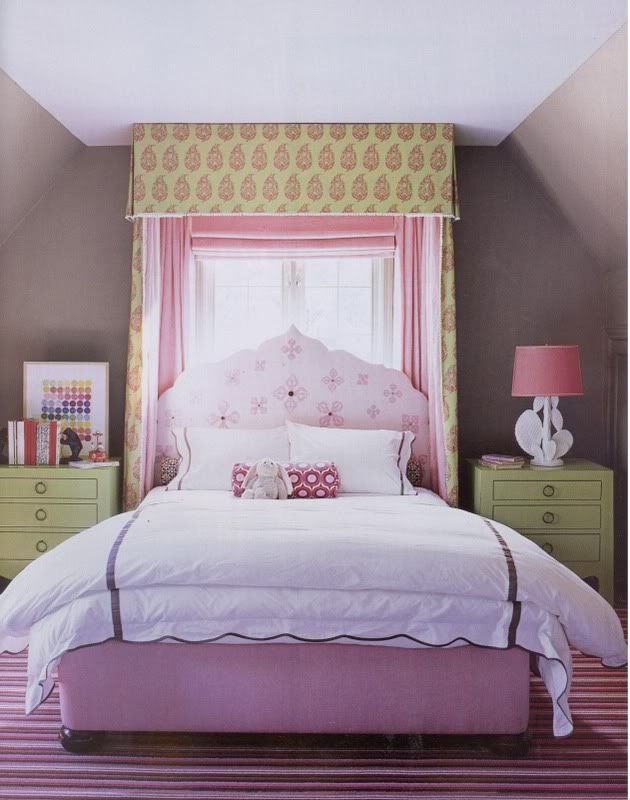 A similar design approach was used, with her clients daughter's room, isn't so cute?? I wish my room had been like this growing up...
Taking it the bath, simple lines but bold colors can make an impact and actually be calming...featured in an
Elle Decor
spread back in March 05, featuring "great baths that evoke worlds within rooms..."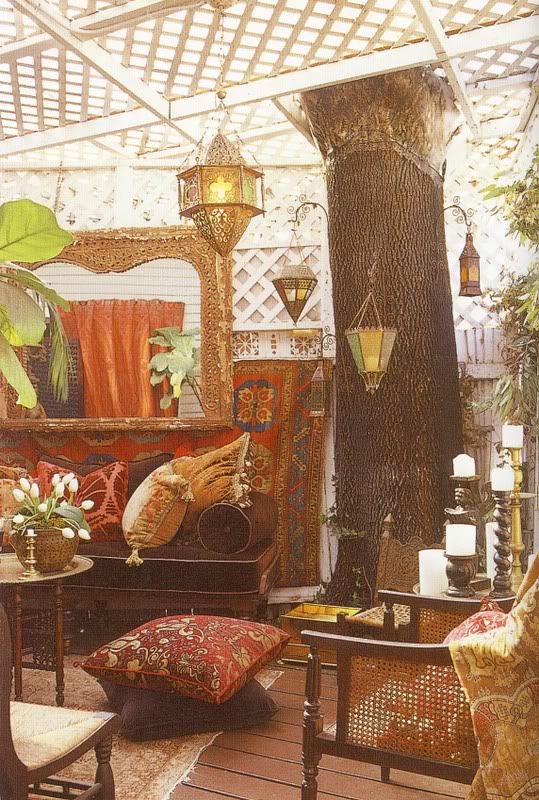 Featured again in Rooms to Inspire, another great outdoor escape designed by
Lawrence-Bullard
, who decorates a patio with an array of vintage lanterns and antique pillows...
Care for a Moroccan bath...Sig Bergamin uses antique tiles on his terrace's whirlpool, inspired by his many trips to North Africa, featured in Elle Decor/So Chic book...
Notice anything similar to the bathroom featured above...well, it's the same Floridian home actually (
I didn't catch that till I took another look at the exterior shots featured
)...but a few years prior, with a different designer (Robert Couturier), and featured in
Elle Decor
('05).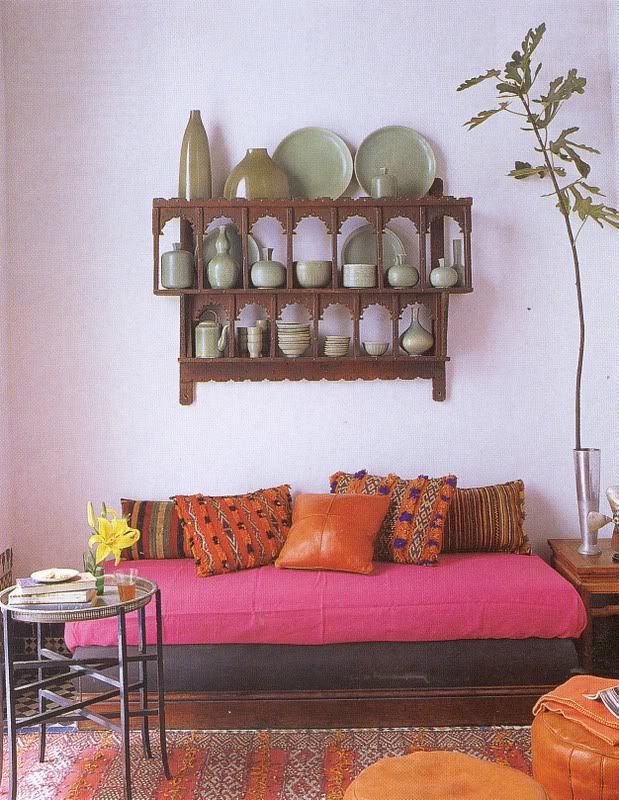 This room here designed by Stephen Di Renza (featured in
Elle Decor
/April '06), takes the bright colorful approach that I often envision in my head when I think "Morocco"...
Even subtle inspiration can turn into a big impact, I love this blue hand blown glass chandelier in Sarah Jessica Parker's weekend home, designed by Eric Hughes and featured in
Elle Decor
/October '05...
Designer's and their foreign intrigue has left me wanting "Moor", what about you? Too much of a good thing, of loving these worldly influences gracing your favorite design magazines??